No matter what type of event you host, there are a few bare necessities that your guests naturally expect you to provide. One of those necessities is access to clean drinking water. This is especially true if you're hosting a day-long event or if your event takes place outdoors in the summer.
Unfortunately, event venues don't always come set up with access to drinking water – especially not for free. Even if they include water fountains, they're often few and far between, resulting in lengthy lines, and bottled water coolers can be expensive.
The good news is you have options for providing your guests with the hydration they need throughout the event, one of the simplest options being a water trailer rental.
Keep reading to learn how to rent water coolers and why they're a must-have for your next summer event.
Why Rent a Water Cooler For Your Event
Although it's simple enough, a water trailer rental may be one of the most important elements of any outdoor event you plan.
As humans, we must always have access to a potable water source for drinking and other water needs; your event would be no exception.
Here are some of the top reasons why you should rent water coolers for your summer events.
Prevent dehydration: This is the number one reason to have a water trailer rental at your outdoor event. Hydration is important in the hot summer months when your guests may get dehydrated quickly.
Provide great customer service: When your guests don't have to rely on bringing their own water or purchasing expensive bottled water, that reflects positively on your event, your business, and your values.
Environmentally friendly: To rent a potable water cooler means your guests can bring their reusable water bottles to use at the dispenser instead of buying a plastic bottle of water. As a result, you're reducing the amount of plastic at your event by using renewable means to keep your guests hydrated, reducing your overall environmental footprint.
As you can see, there are several benefits to renting a water cooler or water trailer for your summer events. What's more, renting a water cooler is easier than you think.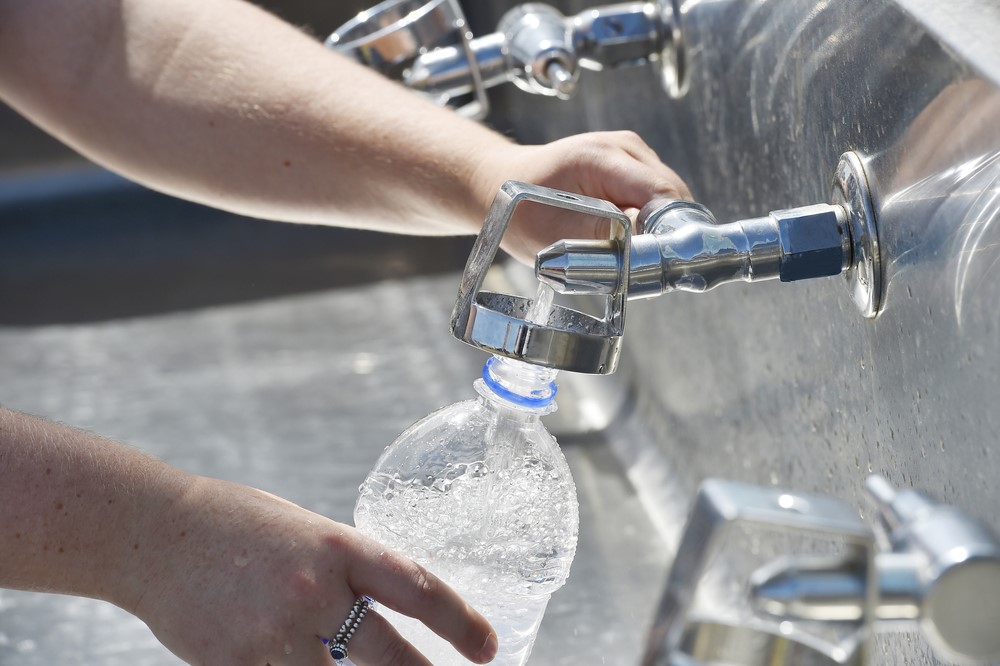 How to Rent a Water Cooler or Water Trailer
Renting water coolers or water trailers isn't too difficult once you have all your event details and know your exact water needs. To help you out, here are a few tips for a successful quality water trailer rental.
Figure Out Whether to Rent or Buy
The first decision you must make about supplying water to your event is whether you want to rent or buy a water cooler or trailer. There are pros and cons to each choice.
If you don't host events often or don't have storage for a water cooler, renting a water trailer for the day of the event might be the better choice. You also don't have to worry about maintaining the cooler or water filter, and you can even have the water coolers staffed to help out your guests.
However, if you continuously host summer events, you may find it more cost-effective to invest in your own water cooler and add it to your business offerings.
No matter which route you decide to take, Quench Buggy offers both water dispenser options.
Know How Much Water You'll Need
At the end of the day, you can never have too much water. You want to ensure that your water trailer rental meets the needs of your event.
Make sure that you coordinate the amount of water you'll need with your guest count. You may need to rent more than one trailer to satisfy the number of guests at your event.
Strategize Where to Put It
Another aspect to consider is where you'll put your water trailer rental. If your event is taking place in a large venue, you need to set the water supply up somewhere central and visible to your guests throughout the event.
Better yet, if your venue is very large, it might be worth getting multiple water trailer rentals to minimize how much your guests have to travel around to get fresh water.
Review the Rental Contract Terms
Finally, before you commit to your water trailer rental, make sure that you review the terms and conditions of your contract.
It's important to ensure that both you and your vendor are on the same page about what the equipment rental entails. Verify that the following information is correct:
The number of trailers you're renting
The cost of each rental
The length of the equipment rental period
The condition of the water cooler
Staff coverage
Conclusion: Find Your Next Water Trailer Rental at Quench Buggy
Something as simple as access to quality water has the power to make or break your event, so you must have a plan to keep your event guests hydrated. If you have the chance to provide free water to your event guests, it's a good idea to leverage the opportunity to make your event as memorable as possible.
You can choose between renting a Quench Buggy or Quench Cart or going with both to provide the best service to your event attendees.
When you choose Quench Buggy, you take advantage of the following benefits:
Reduce your event's environmental footprint
Don't have to worry about cleanup
Professional staff to operate the buggy
Contact us today to get additional information on how to set up a Quench Buggy delivery at your next event!