Water trailer rentals
Our water trailer rentals help your patrons stay hydrated and happy. Happy patrons make for a memorable event that people will want to return to year after year. A Quench Buggy water station rental helps you provide access to free water for your event attendees. Your crowds will thank you. And they'll come back next year!
Generally speaking, people don't like to pay for bottled water when they can have safe access to clean potable water and spend their money in other areas of your event. Quench Buggy makes that possible. Each Quench Buggy unit is staffed by a trained Quench Buggy employee, which means that each unit is kept clean and running properly.
Simply fill in the form to get a Quench Buggy unit at your next event.
Reasons to rent a Quench Buggy:
Reduce your event's environmental footprint
Reduce clean-up after the event
Add value for your patrons by providing free water
Clean, safe units staffed by us
Highly visible advertising vehicle for sponsorship opportunities
Quench Buggy has four different styles of units available for rent anywhere in the world:
Quench Buggy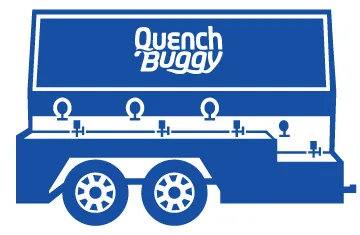 300 US Gallon Fresh Water Tank
Quench Cart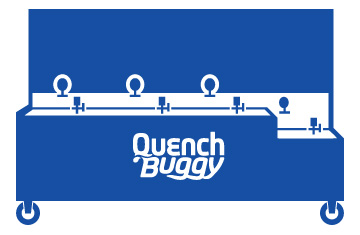 32″ wide x 92″ long x 50″ high
Quench Solo
24″ wide x 24″ long x 54″ high
SAFE
Safety is very important to everyone at Quench Buggy and our event water stations are very safe. From the moment you deal with us you will feel our commitment to the safety of our employees and your event.
Quench Buggy units can only be hooked to an approved municipal source of water. We require testing and written approval before we hook our units up. We can help with this process, but it is a must before we can hook up our units.
Each hydration unit has been designed with safety in mind. All of our event water refill stations units are equipped with a filtration system which includes UV.
Clean
You can rest assured that people won't question drinking from a Quench Buggy water station. Our staff cleans and maintains the unit throughout your event and we believe that our image is of the highest importance. We will represent your event, our company and sponsors with clean units and staff.
Every Quench Buggy water refilling station is thoroughly cleaned and sanitized before each event. During events, each unit is constantly monitored and cleaned to ensure the safest drinking water for everyone.