Water trailer rentals
Big events mean lots of people who need access to clean, fresh drinking water. Providing plentiful, free drinking water is a great way to keep people happy and there's no more effective, environmentally-friendly way to do it than Quench Buggy. ADA/AODA-accessible* and built to an NSF standard**, Quench Buggy is simply the best drinking-water solution for events.
Say goodbye to waste and rent today!
* Americans with Disabilities Act / Accessibility for Ontarians with Disabilities Act
** NSF: The Public Health and Safety Organization
Rental Options
Quench Buggy Original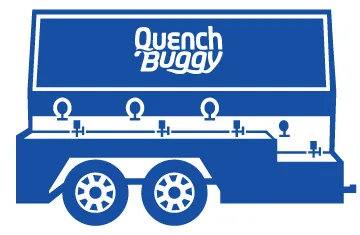 300 US Gallon Fresh Water Tank
On-board water tank or connects to water supply
Bottle fillers & fountains
2 billboards for promotional/advertising
Quench Cart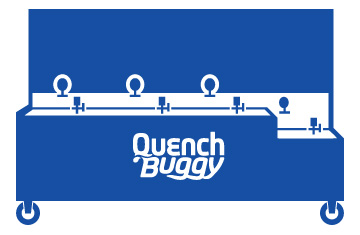 32″ wide x 92″ long x 50″ high
Kiosk on casters
Hooks up to water supply
Ideal for indoor & outdoor
Quench Solo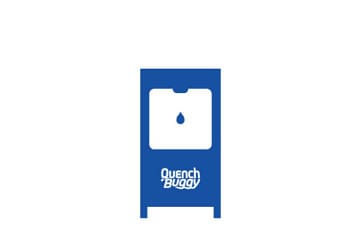 Think small events!
Plug-in water cooler
Rugged steel construction
Takes standard 5-gallon bottles or hooks up to water supply
No water source required
Whether your event has access to a drinking-water supply or not, Quench Buggy can fill your needs. Our Quench Buggy Original trailers are equipped with 330-gallon tanks and are rugged enough to place in the middle of a field. Quench Carts require a water supply and Quench Solos require 5 gallon water jugs or a water supply and power.
Professionally staffed
If your event is big enough to require one or more Quench Buggy Originals or Carts, we send trained staff along with it for placement, setup, water replenishment and constant cleaning. Your event's health and safety is our #1 priority—this is how we help you stay safe.
Servicing North America
We've served many events in Canada and the US.
Canada
Ontario, British Columbia, Alberta, Quebec, New Brunswick, Prince Edward Island
United States (USA)
Alabama, Arkansas, Arizona, California, Colorado, Connecticut, Washington, DC, Delaware, Florida, Georgia, Illinois, Indiana, Kansas, Kentucky, Maryland, Massachusetts, Michigan, Missouri, Nebraska, Nevada, New Jersey, New York, North Carolina, Ohio, Pennsylvania, Rhode Island, South Carolina, Tennessee, Texas, Virginia, Washington, Wisconsin
Why rent a Quench Buggy?
Add value by providing free water
Reduced environmental footprint
No clean-up after the event
ADA/AODA-accessible and built to an NSF standard *
Clean, safe units staffed by us
Highly visible advertising opportunities
* Americans with Disabilities Act / Accessibility for Ontarians with Disabilities Act; NSF: The Public Health and Safety Organization
Safe
Event safety is our number one priority. From the moment you begin dealing with us, you will feel our commitment to the safety of our employees and your event.
One way we help you stay safe is by ensuring the healthfulness of the water you serve. Quench Buggy units can only be hooked to an approved municipal water source. We require testing and written approval, a process that we can help with. Even so, we take extra precautions. All of our hydration units are equipped with a filtration system. Rest easy and stay safe with Quench Buggy!
Clean
Cleanliness and sanitation are as important to us as they are to you. Rest assured that people won't question drinking from a Quench Buggy water station. Our staff cleans and maintains every Quench Buggy Original and Cart throughout each event. We're there to represent your organization and sponsors in the best possible way—with clean units and tidy staff.
Contact
If you're ready to rent or need an answer not covered in our FAQs, we'll be excited to hear from you! Just complete the form below. We'll be in touch shortly.